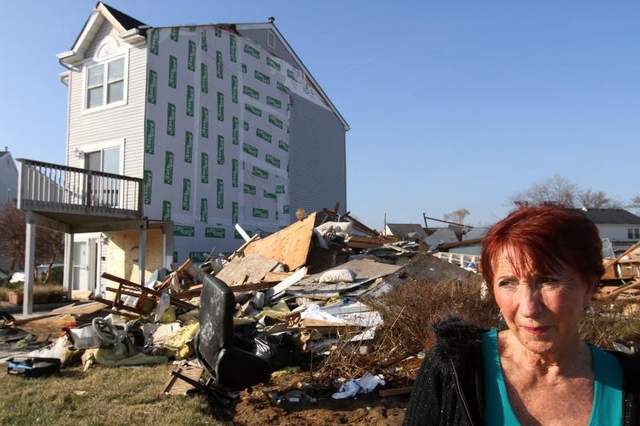 Michael L. Diamond, Asbury Park Press
The townhouse at 2 Vista Shores Drive in Union Beach lies in a crumpled heap with a lifetime of Susanne Bannon's belongings — photos from a childhood in Ireland, Waterford crystal from her wedding, the bed she slept in last month — now in one pile.
What is less clear is what caused the structure overlooking the Raritan Bay to topple over the night superstorm Sandy struck. Was it the wind, or was it the flood?
It's a distinction that for many homeowners at the Shore is at the heart of whether they can recoup their losses. Most every household has a homeowner's policy that covers damage by wind, rain and fire. Fewer have policies that cover flood damage.
It has sent Bannon, at least, scrambling to figure out her options after her homeowner's insurance claim was denied. And it has set the stage for a fight between homeowners and insurance companies that, if Hurricane Katrina is a sign, could wind up in court for many years.
"Most of the time (with Katrina), most of the problems were which (natural disaster) came first," said Mark Mese, an attorney who specializes in insurance for Kean Miller, a law firm in Baton Rouge, La. "It looks like there's going to be the same problem with Sandy."
Bannon was told by her insurance company, Allstate, that her home was brought down by the flood. It could cost her more than $100,000 — the difference between what Allstate pays for her contents and what her flood policy pays through the federal National Flood Insurance Program.
Bannon, now in her late 60s, moved to Union Beach in 1999, downsizing from her home in Hazlet a few years after her husband died and her two children went out on their own.
She found an end unit in a townhouse complex, which, on clear days, came with a picturesque view of the bay and Manhattan.
With Sandy approaching, Bannon heeded evacuation orders and stayed at the Keyport home of her daughter, Maureen. The next day, she returned to Union Beach. By habit, she walked into the end unit. It belonged to someone else. Her home was nothing more than debris.
"It was devastation in Union Beach," Bannon said, standing outside what was left of her home. "I walked by this and said, 'Thank God this is a pile of rubble.' I walked in this door and said, 'This doesn't look like my unit.' "
Maureen Bannon said Allstate had claims adjusters on the scene quickly, and they were nothing but sympathetic, leading the Bannons to believe that Susanne's homeowner's policy would cover the damage. But four days later they got a call; Allstate said the damage was caused by flood and was closing the claim.
It left Susanne Bannon to turn to her flood policy, where she quickly found the problem. Her homeowner's policy reimburses her up to $146,000 for contents. Her flood insurance policy reimburses her up to $12,800 for the same, she said.
Tracy Owens, a spokesman for Allstate, said he couldn't discuss individual homeowners' policies. But he said tidal waters can cause floods, which would not be covered by homeowners' policies.
The issue of what caused the damage first — wind, fire or flood — is one that homeowners and insurers fight over after virtually every hurricane. And Sandy with its 80 mph sustained winds and huge tidal surges offers more complications than normal, said Leslie Knox, a public insurance adjuster with Andrew K. Knox and Co. in Toms River.
Some damaged properties are easier to assess than others. Property insurers can point to a discolored line on the wall as evidence of where flood waters reached and conclude they won't pay for damage, say, on the first floor, Knox said.
If the building isn't standing?
"It makes it pretty hard to develop an argument when the building has been demolished," Knox said.
Homeowners who find themselves in disputes have some options:
They can hire a public insurance adjuster who can assist the property owner in preparation, presentation and adjustment of Sandy-related losses. While insurance claims adjusters work on behalf of the insurance company, public insurance adjusters work on behalf of consumers. The two sides may be able to meet and iron out differences.
Policyholders who don't agree on the settlement amount can avoid litigation and demand an appraisal. Both sides hire appraisers. They meet to discuss differences. And if they can't agree, it is sent to an umpire to decide.
New Jersey policyholders whose claims are denied can appeal to their insurer's ombudsman who would review the decision.
Policyholders can hire an attorney and take the case to court — a move that wasn't uncommon after Hurricane Katrina hit the Gulf Coast.
The Bannons have hired an attorney and now are looking for clues to piece together an expensive question: What caused 2 Vista Shores Drive to collapse?
All around the borough are crumpled homes gutted by floods. But here, every other townhouse is standing. The attic is on the bottom of the pile. And all of the contents – the oven, the exercise ball, the kitchen table – aren't washed away, but lie in one neat heap.
At stake is whether Susanne Bannon rebuilds here, or begins to search for a new place to live.
"This is the only logical spot for her to be happy, content," Maureen Bannon said. "It fits her."