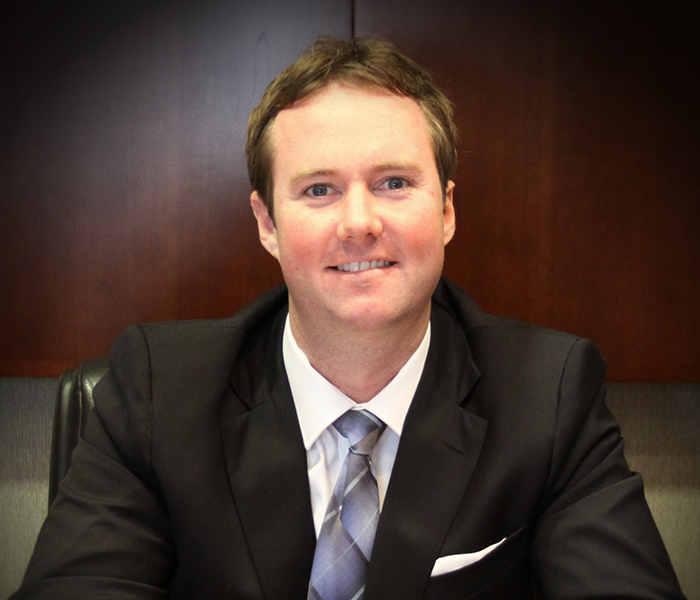 Accreditations
Senior Professional Public Adjuster (SPPA) Designation
Past Director, National Association of Public Insurance Adjusters
Past President, Ocean County Business Association
Past Trustee, Ocean County 200 Club
Past Commissioner of Recreation, Borough of Beachwood
Member, Professional Public Adjusters Association of New Jersey
Licensed Public Adjuster in AZ, CO, FL, GA, IA, KY, LA, MN, MS, NJ, NY, NC, PA, SC, TN, TX, WY, and the U.S. Virgin Islands
Andrew Knox, SPPA
Chief Executive Officer
Raised in a family of public insurance adjusters, the family business has been an important part of life for Andrew since an early age. Now, as a third-generation adjuster, Andrew continues to uphold the core values and reputation for excellence that his father and grandfather worked to establish for over 60 years.
Before he was allowed to officially join the family firm, Andrew was required to establish his own track record of success and to gain valuable experience, education and skill sets which he could bring to the Andrew K. Knox and Company team. Andrew holds a Bachelor's degree from Villanova University in Pennsylvania and also completed studies at the University of Messina while living in Messina, Italy. After completing his education, Andrew worked for several years as a market analyst for one of the country's oldest and largest commodity market reporting companies before he was invited to become an official member of the family firm. With a solid foundational background that only a lifetime of experience in an insurance adjusting family can provide, Andrew quickly advanced towards a position of leadership within the firm, and within the industry at large.
Over the years, Andrew has recovered millions of dollars for his clients and personally adjusts the most complex commercial claims. With his vast experience and knowledge of public adjusting, Andrew earned the designation of Senior Professional Public Adjuster (SPPA), the highest designation a public adjuster can receive, and one that only a very small percentage of public adjusters can claim. Under Andrew's leadership, Andrew K. Knox and Company has continued its rise as one of the preeminent firms in the nation, and has grown to represent clients in twenty-three states and abroad.
In recognition of his accomplishments, Andrew was given the prestigious honor of being elected to serve as a Director for the National Association of Public Insurance Adjusters (NAPIA). Andrew also served as President of the Ocean County Business Association (OCBA), Trustee of the Ocean County 200 Club, and Commissioner of Recreation for the Borough of Beachwood.
Andrew maintains adjusting licenses in Arizona, Colorado, Florida, Georgia, Iowa, Kentucky, Louisiana, Minnesota, Mississippi, New Jersey, New York, North Carolina, Pennsylvania, South Carolina, Tennessee, Texas, Wyoming, and the U.S. Virgin Islands.