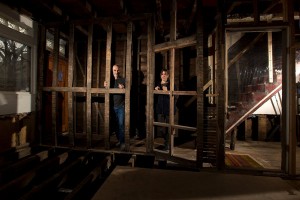 By TARA SIEGEL BERNARD, NYTimes.com
Published: March 1, 2013
With Hurricane Sandy moving in, Andrea and Stephen Kondaks gathered candles, water and flashlights, and then put on their fishing waders. There was nothing left to do but wait, and watch, as the oily water slowly seeped into the hallway of their house, two and a half blocks from the bay in the Red Hook section of Brooklyn.
Four months after the storm, they are waiting to collect enough money from their flood insurance policy to repair the three-story, 150-year-old building that is their home. The water filled the five-foot crawl space under the house and rose to three feet on the first floor, which Mr. Kondaks had used as a painting studio and work space.
"Until you experience it, it's hard to conceive," Ms. Kondaks said. "You just think, 'Water. Water cleans things. Water doesn't destroy an 1860s house that has been here forever.' "
About a month after the storm hit, an insurance adjuster, representing the flood insurance company, arrived on the scene and spent a mere 20 minutes to estimate the cost of repairs, she said. The figure he came up with, about $49,000, is a fraction of what the couple said they expected to pay to restore their home to its prestorm condition.
As a result, Ms. Kondaks, who typically assists with her husband's business installing fine stonework in homes, has instead been working on the claim as if it were her full-time job.
They surely aren't the first storm victims to do battle with their insurer to try to collect what they believe they are owed. In their case, they say their dispute can be traced back to the insurance adjuster.
Adjusters are typically contractors hired by the insurers in the wake of a big storm. Known as "storm troopers," they descend from all corners of the country to estimate what is called the "scope of loss," or what it will take to put the home to its prestorm state.
"All of these guys are different," said Leslie L. Knox, a public adjuster, who is hired by policyholders to help resolve disputes against their insurance companies. "Some are very knowledgeable, and some lack the experience necessary to handle the claims. There is such a dichotomy of talent out there."
Flood policyholders typically dispute one of two things — what is covered by the policy and how it should be priced. In the Kondakses' case, their public adjuster, Michael Palmiero of American Claims Adjusters in Brooklyn, said the scope of their loss had not been properly addressed by the insurance adjuster. "It was an impossible task to get him back to say, 'You overlooked this. You need to sit down with us and we need to go over the whole file end to end.' "
A soft-spoken woman, Ms. Kondaks, who lives with her husband on the top two floors of their building, acknowledges that they are lucky compared with many other victims of Hurricane Sandy. But when she speaks about the problem with her insurer, she sounds as if she has been to war. From the way the couple has been treated by their insurance company, she said, "It's getting hard to believe we even had a flood." The adjuster submitted his final report "without reviewing any of the painstaking amount of documentation we provided — photographs, labor sheets, receipts and real estimates," she added.
Those documents explained that, among a long list of other items, the couple had to remove five layers of flooring. Each layer held water for weeks after the storm, compromising the joists underneath, which are still exposed. "We are having to sanitize, scrape and seal every bit of wood that was exposed to salt water," she said. "If we don't do this, we risk dry rot setting in, not to mention mildew."
The adjuster, working for Colonial Claims on behalf of Fidelity National Indemnity Insurance, estimated that the work on the floor joists would cost a mere $425, compared with the $2,927 projected by the contractor hired by the homeowners. The insurance adjuster's overall report also excluded a stone floor and fixtures in the bathroom, insulation in the basement and a subfloor in the hallway, to name a few of the other missing items, she said.
A representative from Fidelity National (which is changing its name to Wright Flood after being acquired) declined to comment on the specifics of their case but said the company was willing to re-review the file.
(A bit of quick background: Flood damage is not typically covered by homeowners' insurance policies. Instead, claims must be made through the National Flood Insurance Program, which is run by the Federal Emergency Management Agency but is administered by private insurers. The insurers sell the policies and hire the adjusters to assess the damage. Often, the policyholders will hire their own representatives, known as public adjusters, to deal with the insurer's hired help and the overall claim.)
The studs and joists are still exposed on the first floor of the house, which is insured for the maximum of $250,000 in flood damage. The contractor that the couple's public adjuster hired to estimate the damage put the cost of repairs at about $200,000, four times the insurance adjuster's estimate.
Since the storm, the couple has accumulated more than $20,000 in credit card debt to cover emergency expenses — a generator, propane to fuel the generator, new doors, materials to seal the staircase to the living space above, a dehumidifier, reinstallation of electrical meters, the running of some new electrical lines and power tools for demolition work.
They have received an $8,600 advance, and they are set to receive another $20,000. Mr. Kondaks said he had to complete eight hours of paperwork to get his mortgage company, which is acting as a go-between in these cases, to release the money. To receive anything beyond that, the mortgage company first needs to send out an inspector.
But after reaching out to the adjuster for months, they still have not resolved the bigger issue of what is covered and how much they should be paid over all.
Generally speaking, public adjusters (who typically take a 10 percent cut of what the insured collects) say they see a lot of variation in pricing the damage. "One of the problems we see on a regular basis is no consistency for the costs," said Mr. Knox, who is based in Toms River, N.J. "And what I mean by that is we have seen costs for a square foot of Sheetrock where the flood insurance program will pay $1.35 in one case with one adjuster, and in another case we will see $2.35 for the same square foot of Sheetrock. And that is inherently unfair."
Experts say the policy is supposed to pay to make repairs (for covered damages) that return the home to its prestorm condition.
Some say the flood program has suffered ever since FEMA, its administrator, became part of the Department of Homeland Security about 10 years ago. Moreover, "FEMA is very shy about taking on the insurance companies," said J. Robert Hunter, who once ran the flood program and is now the director of insurance at the Consumer Federation of America. "They are deferential to the insurance companies and their practices."
Senator Charles E. Schumer of New York and Gov. Chris Christie of New Jersey have both criticized FEMA's handling of the flood insurance program. Senator Schumer pointed out in a statement in February that the insurers profit from generous fees that can add up to as much as a third or two-thirds of the premium collected in a given year. "New Yorkers have been paying their flood insurance premiums for years and years, and they deserve far better service than they're getting from the companies that are so well compensated to implement our flood insurance program," he said.
Ms. Kondaks and their public adjuster say they did everything they could to fight these seemingly unfair practices. And the couple said they would do everything in their power to avoid having to deal with the insurer again. They may even go as far as designing the first floor as what they called a "sacrificial space" that can withstand an inundation of saltwater. "We didn't want to make a claim at all," Ms. Kondaks said. "And our goal is to never make a claim again."
A version of this article appeared in print on March 2, 2013, on page B1 of the New York edition with the headline: Fighting the Insurer Over Hurricane Sandy Damage.